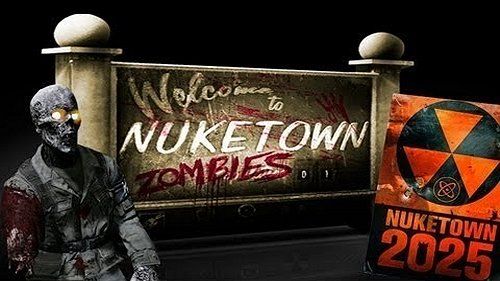 -Introduction-
As a noob myself, I thought I'd write this tutorial for my other n00bs on how to get Nuketown Zombies (NZ from now on) up and running on there PS3 w/ CFW. It might be the simplest process, but some people face issues when attempting to install NZ on their PS3. So in hopes to solve these issues, here it is...
-My Scenario-
I really wanted to play NZ and found this
[Only registered and activated users can see links. ]
of NZ especially for BLUS31011. After many attempts of trying to get that NZ.pkg to work on my PS3 w/ Rogero 4.30 CFW I gave up.....for a day or two
Then I continued to Google and just searched a lot to find a solution, and after continuous hours of searching I came across one
[Only registered and activated users can see links. ]
which did not have a solution but the replies sure did! I happened to read a comment by a user with the name ZOMBIEKILLAH and his reply to the thread was as followed:
Quoted Message
You do not need it for BLUS31011. Install both MP + ZM , Nuke Town DLCs = "DUPLEX fixed DLC ,works on both 355 & 421 cause it is signed with same as my patch fix = "340" => BLES01717.
Go to dev_hdd0\game\BLES01717 <=>Rename the folder to BLUS31011 then install one of my 102/103 pkgs for 355/341 fixes for CFW. Start game & it will be there working 100% i have it on both CFW Rebug 355.2 + Rebug 421.1 REX..
Sadly, even after reading that, I just couldn't get it to work! So I sent him a PM, and we both troubleshooted and we found a solution so i said, "Hey let's write a tutorial!"
-PLEASE KEEP IN MIND-
As far as I know, you need to be on rebug 3.55.3 or 4.21.1 Rex to be able to run NZ
While I was on Rogero 4.30, I could not get it to work. However I might have been doing it all wrong unitil I downgraded to 4.21.1 Rex.
So for that reason, I have made this tutorial specifically for Rebug 4.21.1 Rex because that's confirmed to be working by me.
Please try this on a 3.55 CFW and quote me if it works. I will be sure to update this information.
-Before we get started-
Keep in mind the files we will be using for this procedure will be made for BLES01717 but they still work on BLUS31011 if you follow this tutorial below
-Things Needed-
PS3 w/ CFW 4.21 or 3.55
[Only registered and activated users can see links. ]
[Only registered and activated users can see links. ]
Any Black Ops 2 Official/Unofficial Patch [
[Only registered and activated users can see links. ]
] (I used Black Ops II v1.03 Patches All 7 Regions Fixed For CFW 341-355 by ZOMBIEKILLAH)
Multiman (any version)
USB Flash Drive (2GB or more)
-Lets Get Started-
1) Ensure you have deleted any BO2 Saved Data from 'Game Data Utility' under the 'Game' category on your PS3's XMB
2) Download all 3 files; NZ, Nuketown 2025 (NT2025), and any BO2 Patch .pkg from above.
3) Extract and copy all 3 .pkg to the root of USB
4) Install only NZ and NT2025 .pkg
Ensure the .pkg were installed and go to 'Game Data Utility' and you should see a BO2 save for (BLES01717) (data should be about 472mb after installing bot NZ and NT2025)
5) Now launch Multiman > Go all the way to the left and launch 'File Manager / mmOS'
6) Double press X on 'PS3 Root' Icon > dev_hdd0 > game > Move Mouse over 'BLES01717' folder > Press 'O' on the folder > Scroll to rename > and rename folder to 'BLUS31011'
Make sure the folder is renamed, there shouldn't be a folder saying 'BLES01717' , try to rename it again if the first time doesn't work.
7) Once folder is renamed, exit back to the PS3's XMB. Now go install any BO2 Patch .pkg
Once patch is installed go back to 'Game Data Utility' and check if the icon for (BLES01717) is corrupted and if (BLUS31011) is there. (BLUS31011 should be way more then 472mb now)
8.) Now there's many steps you can do here!
8a) I copied BO2 from my original game disc to internal HDD being sure I enabled 'BD Mirror and Internal' and also I fixing 'permissions' (<--This is what I did)
(This solves the issue with your console requiring you to do a system update for BO2
)
8b) Just launch the BO2 disc game
8c) Copy the downloaded BO2 from a USB to internal HDD being sure you enabled 'BD Mirror, Internal, and check permissions' in Game Setting once BO2 was copied.
Your done!!!! Launch BO2, Press Zombies, Choose other location on Zombie World (not the map, but the world)
-
There might be simpler solutions to this, but I'm explaining what I did to make this work.
-
-
I'm not a pro at making tutorials, if I forgot something please let me know.
-
-
If you have any other points where you get stuck, please quote me below and I will try to assist you.
-
-
This might be a simple walk through for some, but some people noob or not face points at where they get stuck, and this was made for them.
-
-
[Only registered and activated users can see links. ]
-
OP:moiz41510