Save Emblems Easily
No Changing Accounts Or Spoofing Names
Super Fast When Using DEX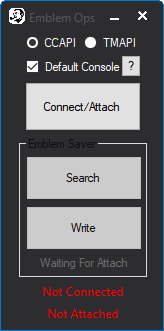 How to use
1.
Navigate to the desired player's Recent Games or Screenshots page and select Search.
2.
Navigate to the same player's Emblems page and select the emblem you want.
3.
Select Write and save your emblem using square.
4.
Repeat steps two and three for the player's remaining emblems if desired.
Credits
Hunter926 - Offsets and Tool Creation
GHzGangster - Coding Search Function
Changelog:
Links:
[Only registered and activated users can see links. ]